Got some skeeball action going!!
Did you all have a lovely weekend or extra long weekend, if you were so lucky? A portion of my Saturday included some time at Chuck E. Cheese. It was crazy loud and I felt germy afterwards, but it was so cute to see kids being kids. I was especially amused by the little boy who was crying on the extremely slow moving merry-go-round. Maybe the horses were scary to him and he just wasn't having it.
I've been on the hunt for a pair of skinny red pants for quite some time now thanks to Isabel Marant and a few bloggers.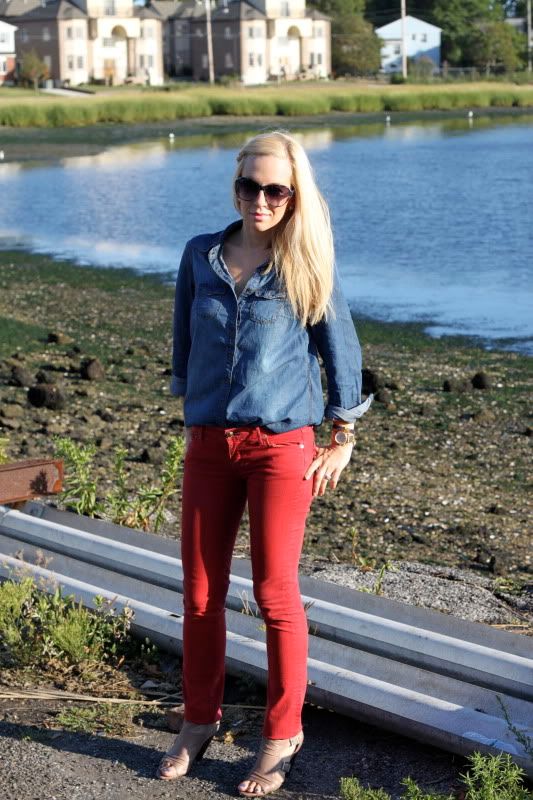 I searched high and low for a budget-friendly pair, missed out on one from Forever 21 due to a slow buy it now trigger finger, but lo and behold I spotted some high on the rack during a recent Saturday morning shopping trip. This outfit was born from a recent Instyle magazine article about wearing a certain outfit element for the rest of winter and for spring. Lucky me, the first outfit had a pair of red pants. You can be sure I'll be stealing the spring outfit idea too. I'm pretty certain they won't mind.
Outfit Details:
Chambray button-down- J Crew outlet
Red cropped jeans- Forever 21 (available here)
Blue blazer- Priorities
Red knit hat- Anthropologie (old)
Leopard scarf- ASOS
Brown suede platforms- Charlotte Ronson
Blue/brown handbag- Rebecca Minkoff MAC