Blogger had other plans yesterday, so I couldn't share pics of my day in N.Y. Bad Blogger, you need a time out (oh wait, you had a big one already)! Those pics will surely come very soon, but in the meantime, let's talk sunglasses.
Are you one who always wears shades no matter what or one that usually forgets to wear them and spend lots of time squinting in the sun?
I'll confess I was in the latter camp until a few years back and I still tend to forget to wear them. But I'm tired of squinting and a little vanity about developing wrinkles have forced me to be a bit more deligent about wearing my shades. Whether you like a classic style or something a little more trendy, cheapies or something designer; there is a pair out there for you!
Alexander Wang Zipper Motif Sunglasses, $289, available
here
There's no denying how much a statement these babies would make, not for the shy or timid!
Karen Walker Annie Sunglasses, $180, available
here
Karen Walker's leopard sunglasses are one of those hot blogger items. Seen
here
and
here
, for instance.
But this pair has such a retro vibe and will look just as fabulous.
Ray-Ban Large Cat Eye, $129 , available
here
You can't go wrong with a pair of Ray-Bans and these will give you the trend of the season, the cat eye. I definitely have my eye on these.
Medium Round Sunglasses, $10, available
here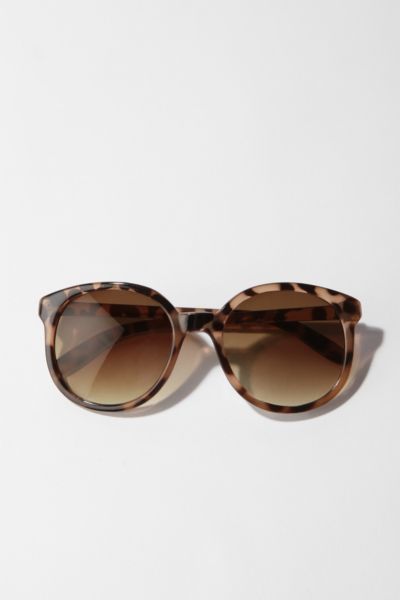 Round frames have been trendy as well, although admittedly not a shape for everyone. If this is for you, UO has your wallet covered and leaves some room for style.
F21 Nude Sunglasses, $5.80, available
here
Do you have the basics covered and are looking for something different? This nude pair may just be right up your alley.
And here is a peek of my small sunglasses collection:
Clockwise: House of Harlow 1960 Charlotte, F21 red aviators, Ray-Ban Classic Wayfarers. Not shown are the random pairs on my car floor.
So tell me, are you big on sunglasses? What's your favorite pair?